This site is hosted by endrop, a company that promises a personal service for all your web hosting needs.

Water Sports in Slovenia

White water rafting, hydrospeeding, kayaking , canyoning, mountain gliding in the summer and dog sledging, long distance downhill sledging and caving in the winter are just some of the ways which the imaginative and adventurous Bovec Rafting Team help you to enjoy your time in the Soca valley. The Soca valley was recently voted as one of the top ten holiday spots in Europe.

The Bovec Rafting Team have a wide range of experience aimed at all levels of ability so that nearly everyone can participate in, and can benefit from, the experienced instructors who are there to ensure your safety. Unguided trips are also available.

A favourite is their guided white water rafting experience using inflatable rafts hodking up to 10 people under the guidance of a fully trained coxswain who will take you through the stunning scenary and fast flowing waters of the Soca river.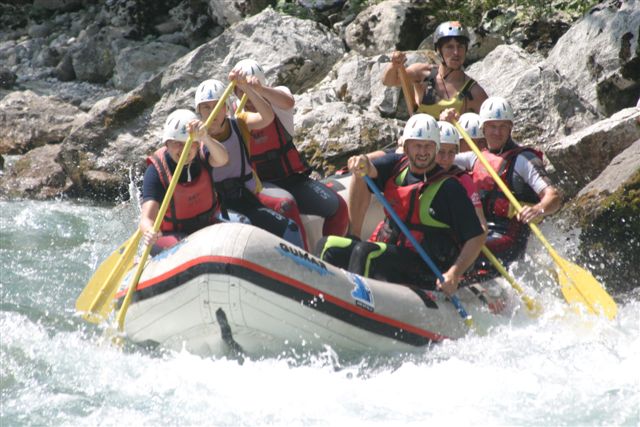 One of the team's rafts in white water on the Soca river.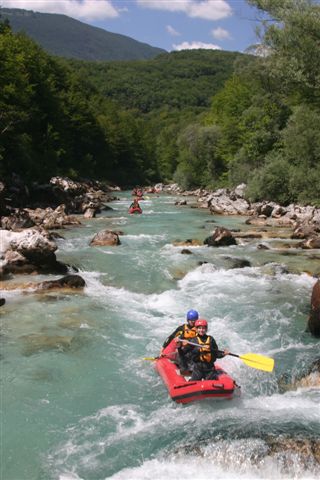 Alternatively experience the thrill of navigating the rapids in one of the mini rafts.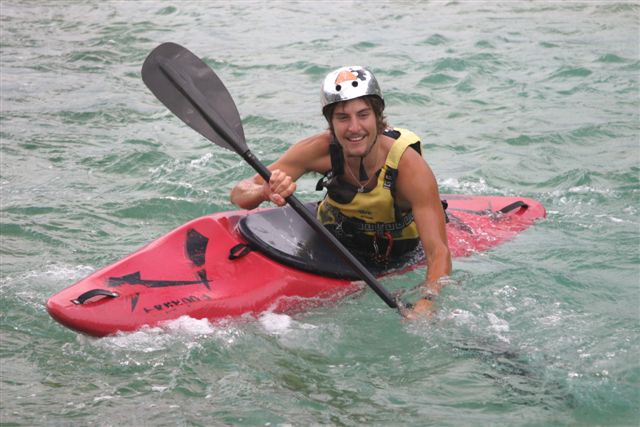 Or for those with previous experience, Kayaks are available.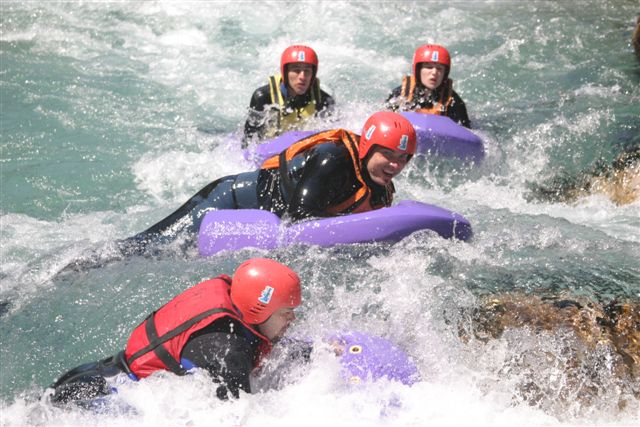 And for those who prefer to be in the water, rather than on it, hydrospeeding provides that extra excitement.
All pictures by kind permission of Bovec Rafting Team.
Amongst their specialities are self propelled hydrospeeding and picnics to make a perfect end to an active day when you can watch the sun going down behind the mountains and, in the winter 40 huskies who will pull you around the snowfields between Tarvisio and Bovec.
Contact Bovec Rafting Team
For more information log onto their website http://www.bovec-rafting-team.com/ or contact them either by email at Bovec Rafting Team. or phone them on 00 386 (0)5 388 61 28 or their mobile 00 386 (0)41 338 308 Bovec Rafting Team.
Posted on 17 Aug 08.



Latest Tip
The season for winter sport is with us! Intersport Bernik is the place in Kranjska Gora for ski hire, all equipment requirements and every winter sporting need. Visit their web site at Intersport Bernik to arrange your winter sporting needs. If you have young children but wish to ski on you own you can leave them in the care of Intersport's instructors/animators. They will keep them safe and entertained and they can also organise lunch for them. This is available for children from age 3.
The Bled Shuttle is now meeting the later Whizz Air flights. Prices start at €13 per person to Bled. Visit the Bled Shuttle web site for more information on timings and destinations. Also read our latest Newsletter and find some reasons to be cheerful about buying in Slovenia now!


SPL is not responsible for the content of external internet sites

Copyright 2004 - 2019 Slovenian Properties Limited. All Rights Reserved
Contact address: The Coach House, Speltham Hill, Hambledon, Hampshire PO7 4RU, UK