Winter Sports in Slovenia
Slovenia has fantastic winter sporting opportunities, whether it's snowboarding, down hill skiing or sledding, Slovenia has it all! But in addition to these "normal" winter sports Slovenia also offers:
Cross-country skiing through mountain trails
Ski touring
Snowmobile rides
Tourist rides on dog sleds and horse-drawn sleighs
Organised sled runs along snowed-in mountain passes that are closed for the winter
Skiing opportunities are rapidly growing in Slovenia with new lifts and pistes being created. The scenery is spectacular and Slovenia offers excellent value for money with lift passes much cheaper than those in the French and Swiss resorts. The skiing is particularly good for families and there are excellent package deals catering for this market. Cheap flights to Slovenia and surrounding areas are now being offered by budget airlines such as Easyjet (see our "How to get to Slovenia" page for information on ways to travel to Slovenia).
It isn't just Alpine skiing that is popular in Slovenia, the country also offers excellent opportunities for cross country skiing. There are trails by lakes and on high plateaus such as Logarsk Dolina and the Bloke plateau. The Bloke plateau is the cradle of one of the oldest (and original forms of) skiing in Europe. At an international level, Slovenia hosts major ski jumping World Cup competitions each year. These include:
Men's alpine skiing in Kranjska Gora
Women's alpine events in Maribor
Ski jumping and ski flying at Planica.
It was in Planica in Slovenia in 1936 that the first jump of over one hundred metres was made.

Kranjska Gora

Kranjska Gora is the largest and most famous ski area in Slovenia. Situated in northern Slovenia, near the Austrian and Italian boarders, it touches the Triglav National park. The resort is surrounded by the imposing peaks of the Julian Alps and stunning scenery: it is a classic Alpine resort. The slopes in Kranjska Gora are suitable for most levels of experience. For beginners and recreational skiers there are the slopes and trails in Kranjska Gora itself and in the close by resorts of Mojstrana, Gozd Martuljek and Planina Pod Golico. For the more experienced skier further challenges are offered by the Podkoren trail. Kranjska Gora also offers opportunities for the adventurous snow boarder.

Because of ts relatively low altitude, the ski season in Kranjska Gora is quite short. January and February are the most reliable months.

Resort Information:
Total number of lifts: 18 ski-lifts and 5 one-seater chair-lifts
Near by Planica hosts ski-jumps with World Cup status
Maximum skiing altitude: 1570 m
Total cross-country skiing length: approximately 40 km
Total piste length: 20 km
Intersport Bernik
Slovenian Properties Limited recommends Intersport Bernik for all your ski hire, ski school and ski gear servicing in the Kranjska Gora area. Intersport Bernik is a family business that organises outdoor activities, supplies, equipment and guides for both summer and winter programmes.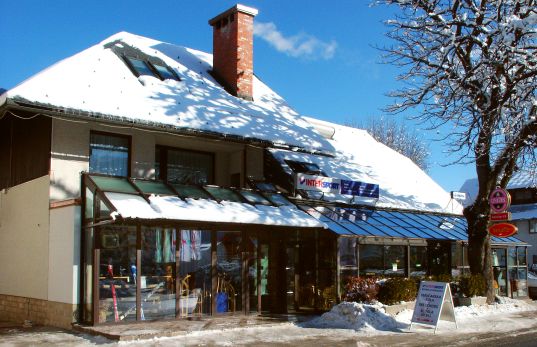 For your enjoyment and safety, we offer quality sports gear in co-operation with the acclaimed trademark

What do we offer?
In winter:
For the perfect skiing experience, we offer quality ski, snowboarding and cross-country rental equipment as well as courses for all ability levels and for all ages in our ski, snowboard and cross-country school. Even the youngest of visitors can take their first steps on skies in our ski kindergarten.
Ice skates for the nearby skating rink and sleds for the area hills are also available. At our ski service, we can repair or condition your skis for top performance in all snow conditions.
In summer:
Enjoy the beauties of the surrounding mountains and valleys with our experienced guides on foot or bike. We also organize Nordic walking excursions, which is a special form of exercise with two specially designed poles to work the upper body while walking. All equipment is available for rent: mountain and trekking bikes, walking poles, family bikes and scooters. Tennis players can bring their tennis rackets in for maintenance as well.
Where can you find us?
Our primary location is in the centre of Kranjska Gora across from the Grand Hotel Prisank. In the winter season we can also be found at the foot of the ski slopes behind Hotel Larix and at the cableway Dolencev rut.
Our phone number: +386 4588 1470 and, in winter, also +386 4588 4770 and +386 4588 4790.
Fax number: +386 4588 4781.
E-mail: Intersport-Bernik.
Or go to our website at http://www.intersport-bernik.com/en/ for further details of what we can offer including our special teaching methods.
Links for further details about the Kranjska Gora resort:
http://www.kranjska-gora.si/
http://www.goski.com/rslo/kran.htm
http://www.mtnresorts.com/resortmtn.cfm?resort_id=5311&site_code=1
http://www.snezni-telefon.si/giz_clani.asp?ID=4
Bohinj - Vogel
Vogel is situated over the quiet and peaceful lake Bohinj in one of the most beautiful parts of Slovenia. From the top station, reached by a cable-car, you have magnificent views of the lake and the surrounding Triglav Mountains.
Because of its higher altitude (the runs are at over 1,500 metres), the season in Vogel tends to last longer than at, say, Kranjska Gora.
Resort Information:
Maximum skiing Height:1,800m
Total number of lifts: 9 (1 tram, 3 chairs, 5 surface)
Total piste length: 40 km
Cross country trails length: 35 km
Links for further resort details
http://www.goski.com/rslo/vogel.htm
http://www.bohinj.si/sport/winter_sports_en.html
Bled
The tranquil and beautiful Lake Bled is one of the most recognisable views of Slovenia. The compact ski area that sits above the lake is framed by the Julian Alps in the north-west of Slovenia. It is one of the most picturesque and unspoilt skiing regions. The Straza ski slopes can be reached from the centre of Bled easily via a chairlift, whilst the Kobla and Vogel ski areas are a scenic 20 minute ride on the ski-bus (which is free with the lift pass).
Resort Information:
Highest lift: 1800m
Total piste length: 60 km
Links for further resort details
http://www.igluski.com/resortresults.cfm?rid=265
Bovec
Kanin is the highest skiing area in Slovenia giving a long ski season that continues well into the spring. The area is easily reached via a three-stage cable from Bovec. Because of the reort's height, the snow remains well into the spring. This resort is right on the border with Italy.
Resort Information:
Resort height: 1,729m
Maximum skiing height: 1,900m
Total piste length: 15 km
Total number of lifts: 7
Cross country trail length: 16 km
Links for further resort details
http://www.mtnresorts.com/resortmtn.cfm?resort_id=5491&site_code=1
Maribor Pohorje
Mariborsko Pohorje is located near Maribor, the second largest city in Slovenia. It is a low mountain range with its highest peak being 1347m. The resort hosts the annual World Cup women's Alpine skiing competition in early January every year. The snow stadium used for the women's skiing competitions is regularly attended by 25,000 fans, making this Slovene ski centre renown around the world. Night lit slopes allow evening skiing along the longest illuminated run in Europe, totalling 5 km in length. The snow guns and careful grooming of the slopes guarantee 100 days of skiing.
Resort Information:
Resort height: 1,347 m
Total number of lifts: 1 cable-car, 2 two-seater chair-lifts and 13 ski-lifts
Illuminated piste for night skiing
Total cross country length: 28km
Total piste length: 60km
Links for further resort details
http://www.bluebookski.com/bluebook9/Slovenia_Mariborsko.htm
http://www.burger.si/Maribor/MariborENG.html
Krvavec
The ski area of Krvavec is situated on a peak at the edge of the Kalška mountain range and is only 32 km from Ljubljana. It has received an award as the best maintained Slovenian ski resort. The ski area is reached by cable car at a height of 1800 metres. At the top there are 6 chair-lifts and 7 ordinary lifts.
Resort Information:
Resort height: 1853m
Total piste length: 35km
Cross country trails length: 3 km
Links for further resort details
http://www.bluebookski.com/bluebook9/Slovenia_Krvavec.htm
Rogla
The skiing resort of Rogla is situated in the Zrece Pohorje region and hosts the annual FIS European Cup. The ski season normally starts in the beginning of December and lasts until May. In addition to 5 chair lifts and 6 ski lifts, the ski area also has a permanent half-pipe. The resort also has good tracks for cross country skiing totalling 5-15 km in length. Terme Zrece with its thermal water and swimming pools is 16km from Rogla and these can be entered using the Rogla Ski pass.
Resort Information:
Resort height: 1517m
Total number of Lifts: 4 new four-seated
chair-lift, 1 two-seated chair-lift and 6 ski-lifts
Total number of pistes: 13
Links to general skiing sites:
http://www.slovenia-tourism.si/?smucanje=0&lng=2
http://www.thealps.com/
http://www.creativ.si/wts/engine/book.exe?lg=0&doc=4_2_3.htm
http://www.slovenija-ski.net/