This site is hosted by endrop, a company that promises a personal service for all your web hosting needs.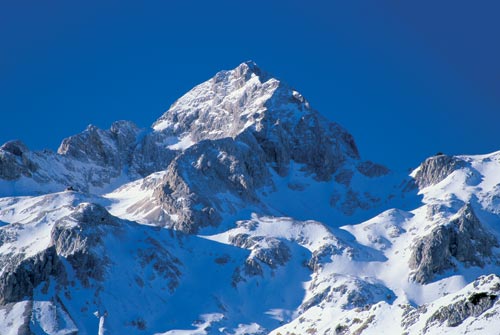 Photograph of Triglav, Slovenia's highest mountain by K. Kunaver by kind permission of the Slovenian Tourist Board
About Slovenia
Slovenia lies in central Europe where the Alps and the Mediterranean meet the Pannonian plains and the Karst on the borders of Austria, Hungary, Croatia and Italy. A little under 2,000,000 people live in Slovenia about 270,000 of whom are resident in the lively capital Ljubljana.
Because of this ideal location and the country's outstanding natural beauty, Slovenia is rapidly becoming a choice place for discriminating Europeans to buy. Tourism has been the fastest growing industry in the country for the past five years. This factor combined with new legislation opening property to foreign buyers for the first time makes it an ideal time to buy a home in the region. Holiday homes are an increasing trend with many people currently buying in Spain and France. However these markets are beginning to saturate whilst Slovenia offers an ideal new market.
Slovenia itself has much to offer. It is unspoilt unlike other regions of western Europe and is a paradise for people who like the outdoors life with great opportunities for hiking, skiing, riding, cycling, climbing and water sports.
Prices in Slovenia
Slovenia is no longer a cheap country. In fact prices have crept up so that the cost of living in Slovenia is similar to that in other EU countries including its neighbours, Austria and Italy. Some things are more expensive in Slovenia, such as household goods and electrical equipment. Slovenia has an ambition to become a country with high technology manufacturing, quality service industries and tourism as its main sources of income, modelling itself on Switzerland. It certainly does not see itself as a cheap labour country with low value-add industries. The prices in Slovenia reflect this national ambition.
Property prices, similarly, are no longer cheap. Prices tend to be quoted per square metre and can range from as little as 1,200 euros per square metre in some of the less accessible areas away from the coast, the capital and the main tourist areas, to upwards of 4,000 euros per square metre in the property hot spots such as Ljubljana and the coast. This equates to around 250,000 euros for a typical, 60 square metre one bedroomed flat. However there are still bargains to be had, particularly in the north east of the country and towards the south along the Italian border.
The Slovene Language
Slovene belongs to the Slav group of languages. It is a unique language with a proud history of literature and poetry. It has some similarities with Croatian and Serbian but it most certainly is not a dialect of those languages.
Slovene is a complex language, difficult to learn for Western Europeans. There is little commonality of vocabulary with any of the languages that a Western European might know, though an Eastern European would recognise many of the words. It is a highly inflexive language in that the word endings change significantly to indicate usage of a particular word. To those who have learnt Latin, and are familiar with the concept of cases, Slovene has 6 separate cases, 3 genders and 3 pluralities. (Slovene shares the disticntion with Arabic of having a dual form for referring to 2 of anything as well as the normal singular and plural.) This means that a noun can potentially have 54 different word endings which will change depending on how the word is used.
The Slovenes themselves acknowledge the difficulty of their language but will respond with much appreciation to anyone who makes the effort to learn some of the basic Slovene phrases.
Click here to learn more about us



Latest Tip
The season for winter sport is with us! Intersport Bernik is the place in Kranjska Gora for ski hire, all equipment requirements and every winter sporting need. Visit their web site at Intersport Bernik to arrange your winter sporting needs. If you have young children but wish to ski on you own you can leave them in the care of Intersport's instructors/animators. They will keep them safe and entertained and they can also organise lunch for them. This is available for children from age 3.
The Bled Shuttle is now meeting the later Whizz Air flights. Prices start at €13 per person to Bled. Visit the Bled Shuttle web site for more information on timings and destinations. Also read our latest Newsletter and find some reasons to be cheerful about buying in Slovenia now!


SPL is not responsible for the content of external internet sites